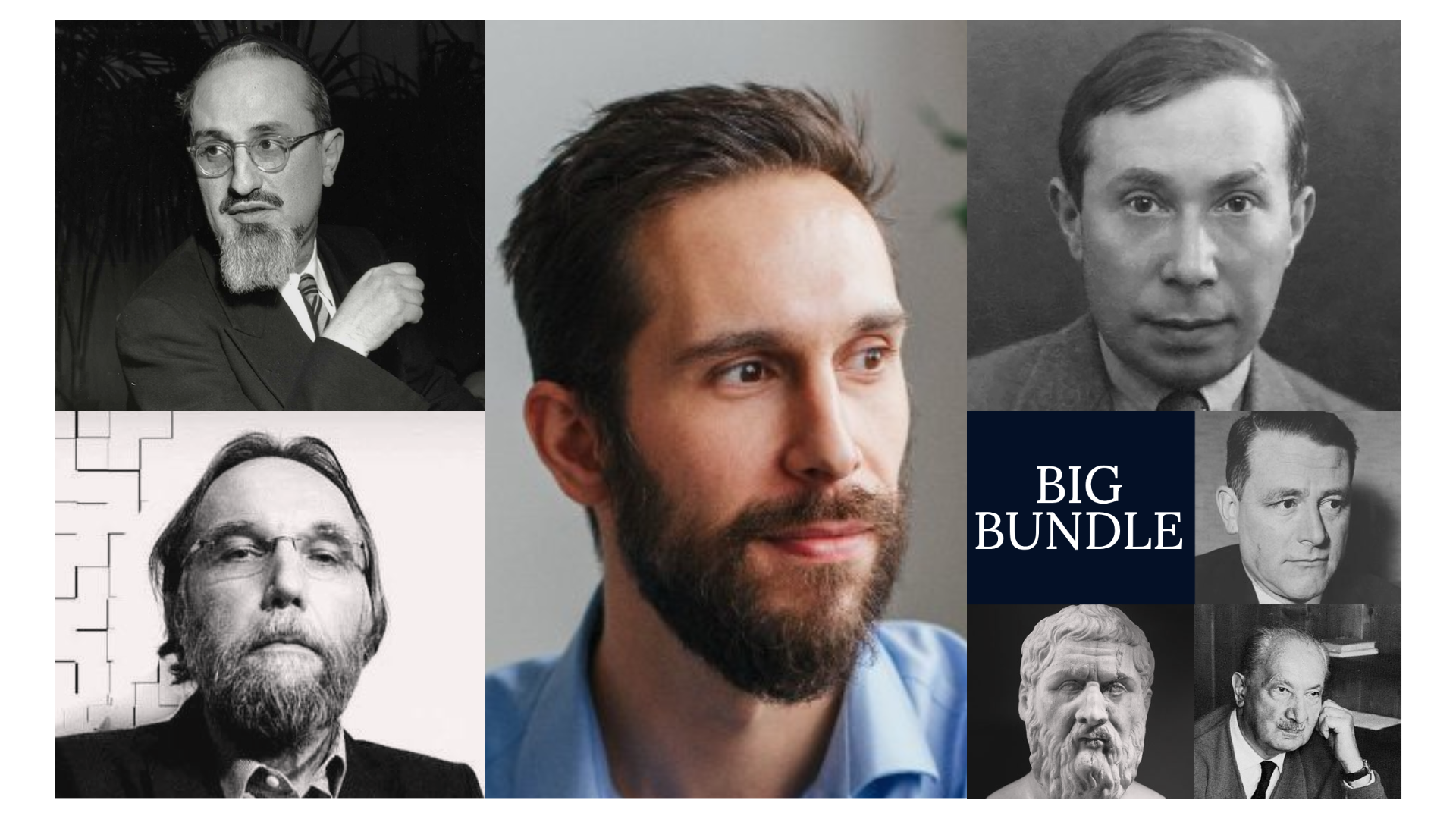 Life-changing arguments and ideas you won't find anywhere else.
Limited time bonus offer!

Buy the bundle by June 1st and you'll get 3 private 1-on-1 sessions with Millerman for free.

Clear. Comprehensive. Transformational.
12 Courses. 40+ Hours.
What you get:
Plato's Republic.

Heidegger's Being and Time.

Heidegger's Contributions to Philosophy (of the Event).

Schmitt's Legality and Legitimacy.

Soloveitchik's The Lonely Man of Faith.

Dugin's The Fourth Political Theory.

Dugin's Noomakhia.

Introduction to Leo Strauss.

Leo Strauss's On Tyranny.

A Philosophical Analysis of Manliness (Introduction to the History of Political Philosophy).

Aristotle's Politics

(Nietzsche's Thus Spoke Zarathustra - under development, included in your registration)
*The bundle does not by default include courses to be added after these 12. It includes the 12 courses listed above. Additional courses may increase the bundle price and require separate purchase. That said, I might add to it freely - it's just not guaranteed.

Upgrading to the bundle:
Note that you can always upgrade to the bundle by paying the difference between the current bundle price and the amount you've already spend on courses in the school. Email [email protected] any time you'd like to do that.
Why buy the bundle?


It is a foundational belief of this school that political philosophy provides a comprehensive horizon for the meaningfulness of life in a way that other approaches don't do when they ignore the history of political philosophy.
The courses in this bundle are designed to show how comprehensive inquiry into politics and philosophy can aid us in our search for meaning, orienting our political action and ennobling our intellectual understanding. They discuss the kinds of books that in the past were used for the education of statesmen, gentlemen, and philosophers, and they bring to light highly topical considerations, as well as timeless inquiries.
You will encounter fundamental arguments about the nature of political and human life in this bundle, ranging from Plato and Aristotle to Heidegger and Nietzsche.


You'll learn to see how debates about politics and culture often stem from deeper philosophical debates, giving you an advantage as a thinker and political actor.


We have used these course materials when consulting with multi-millionaire political actors trying to understand and shape the coming century, as well as with lawyers, writers, teachers, seekers, and practitioners of all sorts.
This bundle goes beyond an investment in your intellectual wellbeing. It lets you look back, around, and ahead, so that you see more and understand more about where we've been, where we are, and where we're going in our political and even spiritual history.


My intention is that in the best case scenario it gives you life-changing insights into politics and man. If you have any questions you'd like to discuss, please book a call. Otherwise, I invite you to purchase the bundle today.
Here are the courses included in your bundle.
Looking for something smaller?
Consider our core and elective bundles.
What Students Are Saying...
"It's a very high value program... You really are passionate about these issues and questions and you bring that to your study and your teaching. I'm very glad that I did both the course and the tutoring together."
"I'd recommend your courses to people who are new to philosophy or people who have a background in it."
"You've opened up 
a whole way of thinking
 about politics that breaks the liberal paradigm."
"It offered a way of seeing and thinking that provided a 
brand new framework.
"
"I could not see what I learned to see from you."
"I don't think I could have got a better start in my study of philosophy."
"Overall, this was a masterclass in pedagogy and evenhandedness"
"Michael Millerman is a man on fire. I've taken two of his courses and will take more. He insights on Strauss, Heidegger and Dugin are not to be missed. His book, podcast, YouTube channel and numerous scholarly articles are beacons of clarity and coherence in a maelstrom of ideological confusion. I hold a humanities PhD and left academia years ago having found it irredeemably corrupt. Professor Millerman has almost single-handedly restored my hope in high-minded inquiry. He directs one's attention to what is, at once, timely and timeless."
"I recommend taking anything Millerman teaches"
Check your inbox to confirm your subscription