This is the live support component for courses.
Supplement your studies with group discussion.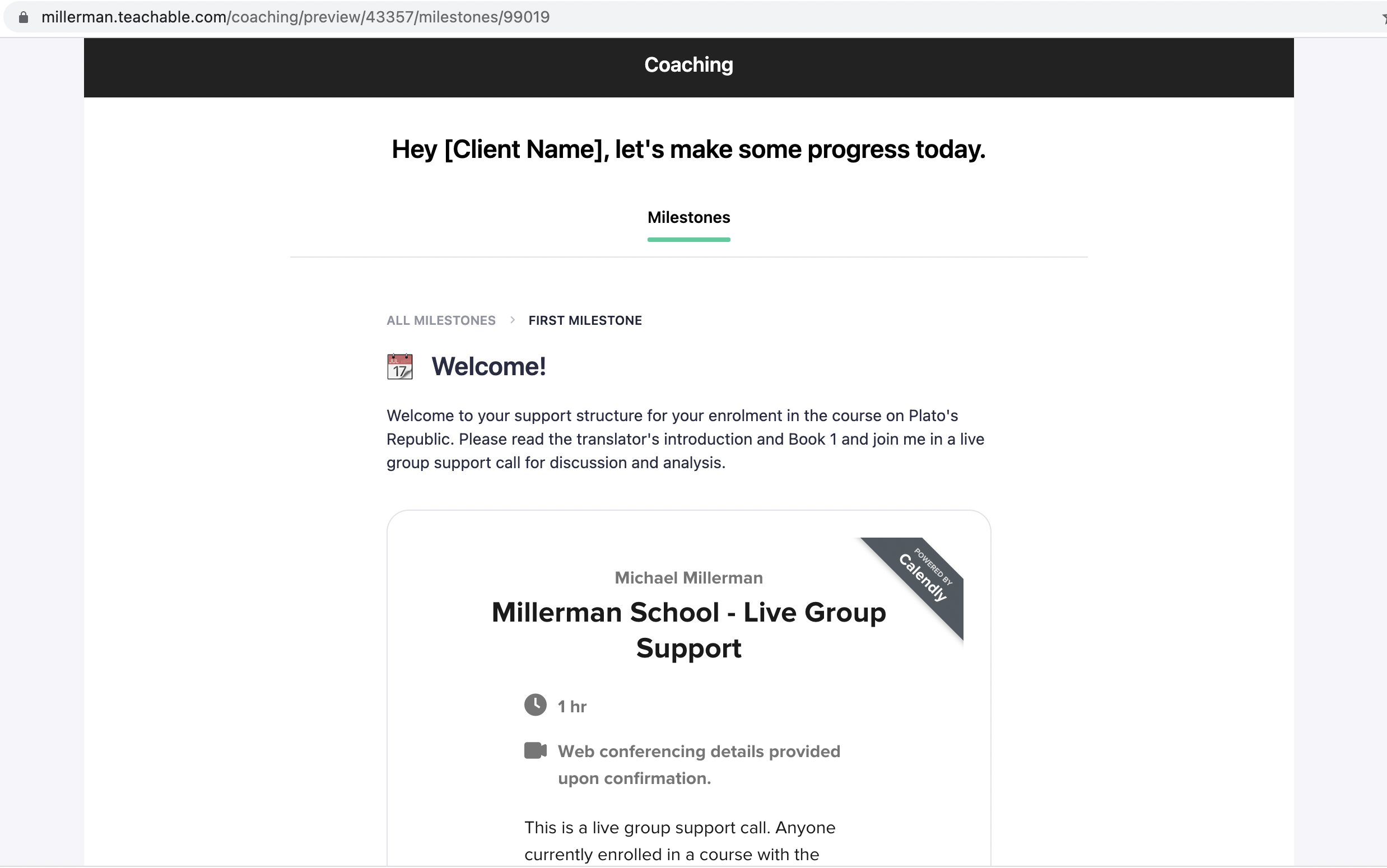 Coaching Portal
This is the coaching page.
I'll post various "Milestones" there for you based on our conversations to help keep you on track - or we can use it however we want. It's a great way to keep all messages, files, texts, and other resources we might exchange as part of your support organized.
It's also where you'll sign up for the live group support calls.
Booking your support calls
This is what it looks like on your coaching page when you go to sign up for a live support call. It's very easy to do. You'll see the available days and times through an embedded calendar.
Frequently Asked Questions
When is the live group support?
At the moment, the live group support is Monday 7pm EST, Tuesday 7pm EST, and Thursday 7pm EST. These times are subject to change.
What is the return policy?
If you attend 1 session and are unhappy, let me know and I will refund your purchase. However, I strongly recommend that you use our complimentary call to see whether you find our time together helpful before purchasing this option.
How do I schedule my appointment?
In the coaching portal, you'll see an integrated calendar with the days and times of the calls setup for your Zoom scheduling.
Where do we meet?
On Zoom. The address of the call will be provided in the coaching portal.
Do I have to talk about the course I am taking?
Not necessarily. That should probably be the priority but I am open to freer discussion and to talking about how the authors and texts relate to one another, etc. We can experiment to see what works best for everyone. The original intention was to provide course-specific support but I'm flexible.
How long is it?
Right now, the live group support is 1 hour. As the group fills up, I am open to extending that.
Do I have to start on time / stay to the end / participate?
No. You are welcome to come at your convenience and to listen in to whatever conversation is happening. One of the goals of this format is to let you simply learn from conversations that are occurring around authors and texts that interest you, and also to give you a chance to meet people who are taking the other courses. So sometimes you might just want to come to listen in, and that's completely fine.
What if I want more than 6 weeks?
There are not currently specific prices set for extending the live support, but we can discuss it. Updates will be posted here.
Is your question not on this list?
If you have some questions that I haven't answered, please feel free to book a call or email me at [email protected]